For the commercial areas such as shopping complexes, and theaters as well as restaurants, excellent décor is a must that is a known fact. However, there are many areas where the décor is the prime attraction, and among all such areas, some of the leading restaurants have also got their name. Doubtlessly the restaurant offers good service and known for them as well as but the prime attraction is the decoration only. Here are a few of such restaurants that you must check.
The Jane restaurant (Inside a church which is renovated): Here one can see that the chapel was a military hospital which is now modernized and given the shape of the restaurant with all the modern features required by it. This restaurant is located at Antwerp in Belgium. The high ceiling and flooring with old pattern of style can surely draw the attention of the visitors here. It also has got designer furniture and modern features that can make the visitors feel in a blended place with ample facilities.
La Terraza Del Casino: This beautiful restaurant is situated in Madrid in Spain with its magnificence. The restaurant has got décor to each area and aspect that can make one simply feel nothing but the elegance. From furniture to equipments and ceiling to floor everywhere one can feel the design and charm that can hardly make one feel leave the place.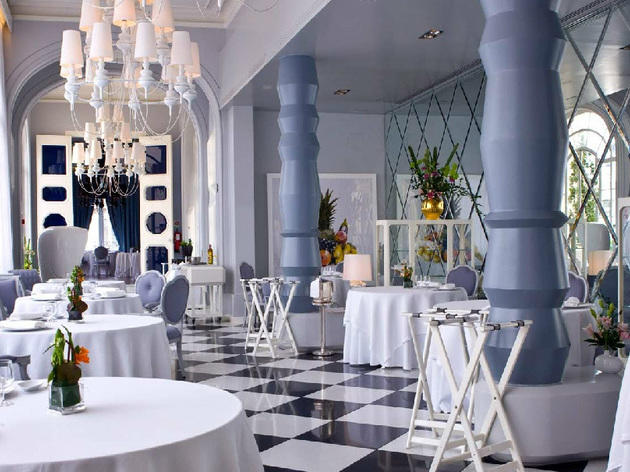 Blacksheep-Nando's: It is located at the Ashford in the UK. The restaurant is purely a work by the craftsmen who have produced the masterpiece with their intricate work. One can witness the skill from furniture to fixture and traditional to modern equipment where the beauty is spread all over. The color combination and type of work are amazing.
Jouin Manku-Alain Ducasse au Plazza Athenee: This grand restaurant is located at Paris in France. Each area of this restaurant designed by the experts which one can feel with the first look. The curved furniture, a grand fixture with an elegant color combination and premium quality items all over add great charm to each area from ceiling to floor.
A cantina: It is a Spanish restaurant located in Santiago De Compostela where one can feel the grand availability of Scandinavian furniture provided with artistic design. The look and the elegance of each area here can make one feel proud of his visit to the place.
These are some of the known restaurants for their design among the visitors.