Flooring has gone through ages. There was a time where only concrete was smoothly finished to make the flooring. The colors were added but a single color was used. But now there are so many types of tiles in the market that the customer gets nearly confused before selecting his choice. Marble and granite was the choice of only high-end society but now many people can afford to use them for their flooring and walls. There are an array of materials, colors and patterns available in the market. From the expensive natural stones to cheaper ceramic tiles everything is there to match the budget.
Herringbone Pattern Matches Any Tile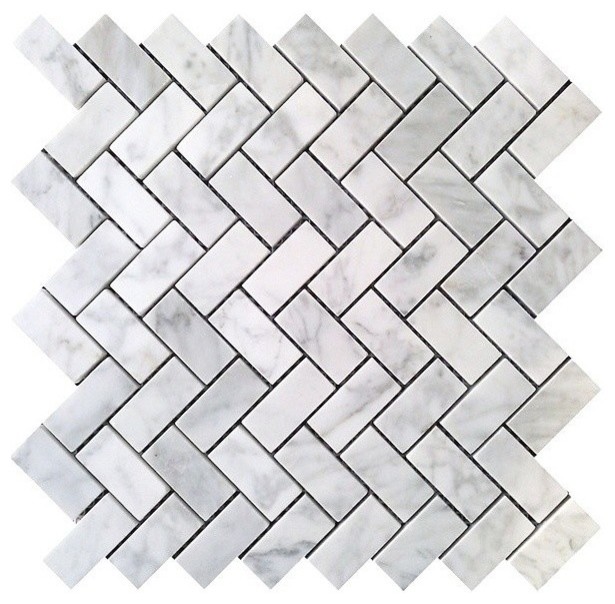 There are many patterns available in the market. Square, rectangle, hexagon, round and other geometric patterns are common shapes. Some special shapes like basket weave and herringbone patterns are also available. Herringbone is the crisscross design which remembers the shape of the skeleton of the herring fish. This pattern is liked by many people and the designers always choose it. It gives a noble look to the design. Almost any type of tiles can be used to make this pattern. Some prefer wood looking tiles and some the natural marble. This pattern looks marvelous in any type of material.
Colored Or Monochrome
Colored tiles or just monochrome ones can be used to get that awesome look with this pattern. Some expensive and cheaper tiles can be mixed to get this beautiful design on the wall or the flooring. The tiles having glossy or matte finish can be arranged in this pattern. The rectangular tiles arranged in a `V` pattern would give the herringbone design. Contrast color tiles or grout would double the effect of this pattern. Monochrome colors are also replacing the bright colors these days.  People have their own choice of dark and subtle colors. Accordingly, they can decorate the interiors using this aesthetic pattern. There are abundant colors to suit the surroundings of the area and also reflects the choice of the homemaker.
Combining Patterns
This pattern would give a luminous effect with metal and glass combination. Porcelain can be combined with natural stone, metal and stone also give a striking appearance. There are designers combining basket weave with herringbone may be like borders or contrasts. Plain larger tiles can have the border of this pattern to give a smashing look. This pattern can be used for flooring, accent walls, backsplash, fire surrounds, shower surrounds and many other places in the house.